Seychelles remains a relatively unexplored destination even though it hides a number of splendid beaches and alluring greens. A group of islands in the Indian Ocean, this East African country offers the perfect escape to holidayers looking for some change in the air. The journey from India to Seychelles is not a very long one, but well worth the time.
Indians' Love for Seychelles
Indians are known the world over to be avid travellers. However, the bond between India and Seychelles goes far beyond tourism. About 6% of the local population consists of Indo-Seychellois inhabitants. Thanks to inter-marriages with Seychellois people of Creole, French and African origin, more than 80% of the present generation has some Indian heritage, even if it is distant.
One can easily spot a bit of Indian-ness in most spheres of the Seychellois culture, whether it is food, language or religion. In the past decades, this African archipelago was one of the top favourites of wealthy Indian celebrities and business tycoons. However, the recent boom in overseas tourism has seen a lot of Indians warming up to this tropical paradise.
Where is Seychelles?
The Republic of Seychelles sits in the Somali Sea, which is a part of the Indian Ocean. An island country in Sub-Saharan Africa, Seychelles is located 1,500 away from the mainland. While it is too tiny to appear on the globe, this archipelago is a cluster of 115 little islands which are fairly big in size (when compared to similar archipelagos in the rest of the world).
Seychelles is spread over 459 square kilometres and follows the time zone of UTC+4 throughout the nation, also abbreviated as SCT (Seychelles Time). The country is 1,600 kilometres to the east of Kenya, about 1,300 kilometres from Somalia and to the north east of Madagascar.
The constitution of Seychelles recognizes more islands than the number (115) observed by the world. At 155, it claims to have many named islands, some part of the Outer Islands which were recognized by the tourism ministry more recently.
Since Seychelles is located south of the equator, weather patterns follow the southern hemispheric trends. Nevertheless, its unique tropical rainforest climate ensures that there is a perpetual wet season here, apart from a handful of dry season months.
India to Seychelles Map
It is hard to spot Seychelles on a regular world map as its size is impossible to be accurately represented in reference to other countries such as India. Even though India is in the continent of Asia, and Seychelles, a part of East Africa, both the countries are less than 5 hours away from each other.
The islands in Seychelles are segregated into 26 administrative regions with Victoria as the capital. From India, Seychelles appears as we move to the south west, towards Africa. We must look below the horn of East Africa to be able to locate this island cluster.
India to Seychelles Distance
Seychelles is roughly 3,794 kilometres away from India, with some variations depending on your starting location in India and exact destination in the archipelagic island country. This seemingly large figure, however, is nothing more than a number, especially when you remember that the flight time from India to Seychelles is hardly a few hours.
Which is Closer to India? Seychelles or Mauritius?
We are spoilt for choice when it comes to island vacation destinations in the Indian Ocean. Many tourists tend to compare Seychelles with Mauritius when making their holiday decision. It may seem a bit confusing to pick between the two as both are gorgeous island locations off mainland Africa.
Both Mauritius and Seychelles have a sizable Indian population by heritage, and offer a decent amount of variety when it comes to topography and sightseeing. However, Mauritius is approximately 5,110 kilometres from India, much farther than Seychelles.
When one compares the flight time, it takes 6 and half hours to fly direct from India to Mauritius, whereas it takes just 4 and a half hours for Seychelles. Seychelles is, no doubt, closer to India, but the fare difference varies only marginally.
How to Reach Seychelles from India?
There are different modes of transportation to travel from India to Seychelles. Before rushing to book your flights, understand the other options and the pros and cons of each. The choice you make should reflect what you want, not what all other Indians do.
India to Seychelles by Flight
The most popular way to get from India to Seychelles is by air. There are a few flight operators that connect different Indian cities to Seychelles. One will find both direct flights and connecting ones, from numerous places in India to a number of islands in Seychelles.
In case there are no flights that are convenient to you, and if you are willing to loosen the purse strings, you can also charter a small plane or whizz past in a private jet. Helicopter tours are also possible, but only for getting from one Seychellois island to another as helicopters cannot scale the long distance between India and Seychelles.
Seychelles Airport
There are a total of 15 airports in Seychelles, with many more helipads. One must not be led into thinking that international flights operate from all, as there is only one international air base here – Seychelles International Airport on Mahé Island. All other airports are for domestic flights, chartered aircraft and private jets only.
Other airports in Seychelles are Praslin Island Airport, Frégate Island Airport, Alphonse Airport, Assumption Island Airport, Coëtivy Airport, Platte Island Airport, Astove Island Airport, Denis Island Airport, Remire Island Airport, Bird Island Airport, Farquhar Airport, D'Arros Island Airport, Marie Louise Island Airport and Desroches Airport.
Each of these airports is located in its own island in Seychelles. In fact, most of the aerodromes are air strips, without the regular facilities of a full-fledged airport. But that also means check-in and check-out procedures are quicker. The smaller airports and airstrips in Seychelles are connected by domestic flights to Seychelles International Airport (known as Aéroport de la Pointe Larue in French), making local tourism possible to the world.
Flight Duration from India
The flight time from India to Seychelles is contingent on the Indian city you are flying from. The only direct route that exists from India is from Mumbai, taking 4 hours and 25 minutes to reach Seychelles International Airport. All other routes have at least one stop over (and some with more than one halt), taking the total flight time to over 10 hours. Some very long flight routes can even cross 30 hours.
Flight Operators from India
A select few airlines fly from India to Seychelles International Airport, connecting a handful of cities. Only 2 airlines offer direct flights – Air Seychelles and Air India, the latter being the only Indian airline to operate on that route. Also note that direct flights are only available for Mumbai. All other Indian cities will have at least one stop over, either in India or abroad, depending upon the connecting airline(s).
If layovers are no problem for you, then you will have more airlines to experiment with. Including 1 or 2 halts, other airlines that connect various Indian cities to the Seychellois island of Mahé are Etihad Airways, Turkish Airlines, Emirates, Qatar Airways, Ethiopian Air and Kenya Airways.
Departing Cities from India and Average Air Ticket Price
Flight connections to Seychellois islands from Indian cities are infrequent and with multiple layovers that involve switching airlines as well. However, most airlines have code-sharing agreements with one another, and let you fly on the same PNR with through-booking of checked baggage. That means, you will not need to collect your check-in bags at the stopovers or re-check them in for the next connecting flight.
Departing cities from India to Seychelles are Mumbai, Delhi, Bengaluru (Bangalore), Kolkata, Hyderabad, Pune, Chennai, Nagpur, Goa, Surat and many more. Except for Mumbai, though, all other cities have layovers. The cheapest tickets for a direct one-way flight from Mumbai to Seychelles will cost about INR 17,000 per head.
Figures can soar to INR 30,000+ for a single journey, while return fares begin at INR 33,000 when you book direct with Air Seychelles or Air India. Many connecting routes offer tickets that can cost up to several lakhs of rupees. However, average return ticket prices from India to Seychelles hover around INR 40,000 per person.
India to Seychelles by Cruise
As of now, there are no active cruises that operate between India and Seychelles. However, in the past, Azamara Club Cruises offered a 20-day sail along various points of interest in the Indian Ocean. Their seaborne vessel started from Mumbai and stopped at Kochi for a couple of days before setting sail for Seychelles, where it would remain for 3 days.
The full itinerary also included visits to The Maldives and Sri Lanka, before returning to India, where it had a halt in Goa and finally docked in Mumbai. The sea route is an affordable alternative to flying, and one should keep an eye out for any new voyages that are announced in the future.
Sea Route Distance and Time Taken
The distance between Mumbai and Victoria – capital city of Seychelles is 3,251 kilometres. However, the sea route can be longer as there may be other halts on the way. From Kochi, this distance is 2,815 km – an important docking station for most cruise liners that sail in the Indian Ocean.
Currently unavailable on any Seychelles vacation package, sailing from Kochi to the island of Mahé takes at least 3 days. The return journey takes just as long. A cruise from India to Seychelles, therefore, will take at least a couple of weeks to be properly enjoyed.
Cruise Fare
The 20-day long cruise from the Arabian Sea to the Somali Sea in the Indian Ocean was priced at USD 5,999 plus taxes, fees and port expenses. At present, one can choose to cruise between multiple islands in Seychelles on liveaboards. The costs range from INR 1,00,000 to INR 2,70,000 per person for cruises that last between 4 and 11 days.
India to Seychelles by Road (Possibility)
On the surface, it may seem impossible to do a road trip from India to Seychelles as both the countries are not only in different continents but also separated by many seas in the Indian Ocean. However, for those keen on road-tripping, it is possible to break the journey into multiple laps and cover the Indian bit via roadways.
Since Mumbai is the only Indian city with a direct flight to Seychelles International Airport, it makes sense to drive up to Mumbai from whichever other city in India that you reside in. Being the financial capital of India, Mumbai is well connected to most other cities, towns and villages via expressways, national highways, state highways and other roads.
Once you reach Mumbai's Chhatrapati Shivaji Maharaj International Airport (CSMIA), take the 4 hour 25 minute direct flight to Seychelles. If your itinerary only includes exploring the island of Mahé, you can continue your road trip there.
Visiting Seychelles from various Indian Cities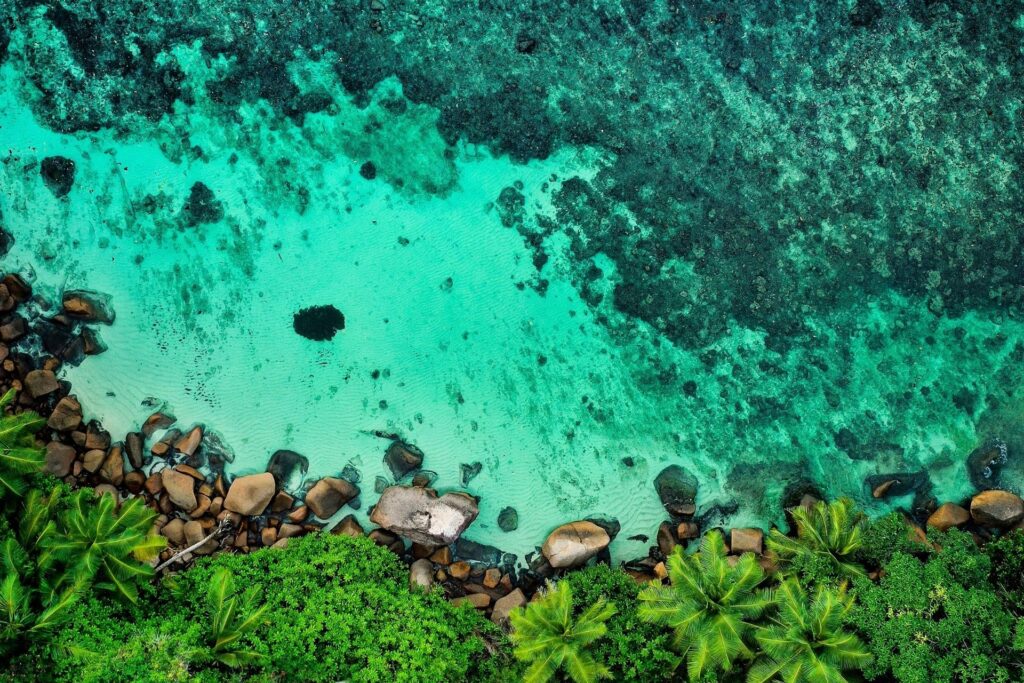 One need not worry if arriving from a city that does not have any well-popularized flights to Seychelles. There are plenty of connections with either a single airline or multiple airlines to get you from any Indian city to the island of Mahé.
Delhi to Seychelles
New Delhi is about 4,365 km away from the Seychellois archipelago. The capital of India has no direct flights to Mahé but several connecting routes are available. Choose from Air India, Air Seychelles and Emirates when flying from Delhi to Seychelles.
The shortest flight takes 13 hours and 40 minutes with a 7 hour layover in Mumbai. Operated by Air India and Air Seychelles, this route costs just INR 37,000 for the return journey, and INR 23,000 for the onward flight.
You can also fly Emirates if you prefer a halt in Dubai and wish to spend some time checking out the famous Dubai Airport. The journey time in that case will range between 16 hours and 28 hours, depending on the layover duration.
Mumbai to Seychelles
Mumbai to Seychelles route is the best connected one, with maximum flight options. Air Seychelles, Etihad, Air India, Emirates, Qatar Airways and Ethiopian Air operate flights on this route, Air Seychelles and Air India being the only two operators with direct flights.
It takes only 4 hours and 25 minutes when you fly non-stop. The cheapest fare is offered by Air Seychelles at INR 17,000 one way. Mumbai is 3,254 km from Seychelles, and the flying time can go up to 40 hours, with layovers in Dubai, Doha, Addis Ababa or Delhi and Abu Dhabi.
Bangalore to Seychelles
Previously known as Bangalore, Bengaluru is 3,132 km away from Seychelles. This tech hub in the Indian state of Karnataka is connected to the African archipelagic islands through multiple airlines such as Air India, Air Seychelles, Emirates, Etihad, Qatar Airways and Kenya Airways.
Since there are no direct flights from Bangalore to Seychelles, expect layovers at Delhi, Mumbai, Hyderabad, Dubai, Abu Dhabi, Nairobi or Doha, depending on the airline connections you choose. The shortest route takes 14 hours and 30 minutes, costing INR 29,000 for one person one way.
Chennai to Seychelles
About 3,374 km from Seychelles, Chennai has a select few flight routes with a single stopover. Since none of the airlines operate on a daily basis, the flight options you have will depend on the day of the week you choose to fly.
The shortest flight from Chennai to Seychelles takes 18 hours and 45 minutes, a layover in Mumbai. Operated by Air India and Air Seychelles, this is also the cheapest one-way flight at INR 26,000. Other airlines that service this route are Etihad, Qatar Airways and Emirates.
Kolkata to Seychelles
The Seychelles is located at a distance of 4,683 km from Kolkata. Even connecting flights from Kolkata to Seychelles are only available on certain days of the week. The quickest route is via Mumbai, with a 9.5 hour layover. This is also the cheapest flight at INR 27,400 for a single journey.
Airlines that ply from Kolkata to Seychelles on a code-sharing basis are Air India, Air Seychelles and Emirates, the latter offering a halt in Dubai. Flights can cost up to INR 47,000 for the onward journey for one person.
Hyderabad to Seychelles
Separated by 3,519 kilometres, Hyderabad and Seychelles are serviced by Etihad, Qatar Airways, Emirates, Air India and Air Seychelles.11 hours and 40 minutes is the fastest you can get from Hyderabad to Seychelles via Mumbai.
The most economical flight rate is INR 28,000 while the average cost typically hovers around the INR 44,000 ballpark figure. Some long haul flights can take your entire journey time from the city of pearls to Seychelles to over 30 hours.
Ahmedabad to Seychelles
3,594 kilometres away from Seychelles, Ahmedabad may be a newly upgraded tier-1 city in India, but there are no direct flights that connect the two destinations. Even the shortest flight takes 26 hours and 20 minutes, with a 21-hour long layover in Mumbai.
Prices can range between INR 25,000 and INR 64,000 for a one-way economy-class ticket from Ahmedabad to Seychelles. Airlines on this route are Air India, Air Seychelles, Qatar Airways, Etihad, Kenya Airways and Emirates.
Goa to Seychelles
Goa and Seychelles share similar vibes, with so many beaches to laze around on. Separated by 3,023 km, there are only 3 airlines that operate from Goa to Seychelles as of now. Choose between Qatar Airways which has a layover in Doha, and a code-sharing flight operated by Air India and Air Seychelles that halts in Mumbai.
The shortest route takes 10 and a half hours whereas some can cross the 30-hour mark. Prices for a single journey start from INR 28,000. One should plan their trip in advance when coming from Goa as flights are only available on certain days of the week, and sometimes on certain weeks only.
Pune to Seychelles
Pune is 3,271 km from Seychelles International Airport. As of now, there are no flights that connect Pune to the island of Mahé. However, it is possible to drive down to Mumbai in 3 to 4 hours and catch any of the flights available from Mumbai to Seychelles. Alternatively, on a separate PNR, it is possible to fly from Pune to Mumbai before getting on the plane to Mahé.
The road trip from Pune to Mumbai can be made via long-distance buses (private or state operated), cabs or self-drive rental cars as well. Costs vary depending on how you plan on reaching Mumbai's international airport from Pune. Budget for approximately INR 100 for an MSRTC bus ride to INR 2,000 for a pre-booked hatchback.
Cochin to Seychelles
Cochin is 2,817 away from Mahé Island. Carriers that fly from Kochi to Seychelles are Air India, Air Seychelles, Emirates, Qatar Airways and Etihad. All of these flights have at least one stopover in cities like Mumbai, Dubai, Doha or Abu Dhabi (based on the airline).
The lowest one-way flight rate is INR 30,000, taking 13 hours and 30 minutes for the entire journey. Other connections typically cost over INR 50,000 per head per way for economy seats.
Nagpur to Seychelles
3,854 km away, Nagpur has no flights to Seychelles. The nearest airport from where one can catch a flight to Mahé is in Mumbai. Nagpur and Mumbai are well connected by railroads and roadways, but over 800 km apart.
Driving or taking a bus could be too tiresome, so the best way to reach Mumbai airport is by taking a train or catching a domestic flight from Nagpur to Mumbai. From Mumbai's Chhatrapati Shivaji Maharaj International Airport, take any of the flight options to Seychelles.
Surat to Seychelles
Surat is 3,439 km from Seychelles, and without any flight connections. However, one can fly down to Mumbai or drive up to Ahmedabad for their onward journey to Mahé. Surat and Mumbai are serviced by several trains and buses as well. Also, it takes just 5 hours to reach Mumbai from Surat by road.
India & Seychelles' Currency
While both India and Seychelles deal in rupees, one must not confuse both the rupees to be the same. India's currency is the Indian Rupee (INR) while Seychelles uses the Seychellois rupee or roupi (as it is called in the Seselwa dialect).
The Seychellois rupee is denoted by SCR, SRe or SR. Each roupi or roupie is subdivided into 100 cents. Currency notes presently in circulation are in the denominations of 10, 25, 50, 100 and 500, whereas coins in circulation are in the denominations of 1, 5 and 10 rupees, and 1, 5, 10 and 25 cents.
Accepted Currencies
The Seychellois rupee is accepted all across the country, being the official currency. However, most hotels in Seychelles also accept Euros (EUR). While most other currencies are not freely accepted, one can easily exchange reserve currencies such as US dollars and British pounds as well.
When travelling from India, one must remember that the Indian rupee is not a reserve currency, and hence, not easily changeable in Seychelles. Always carry your money converted into Euros (most preferred) or USD (the next best option), if not GBP. You will have to change your USDs and GBPs into SCR or EUR once you reach this African island nation though.
Average Conversion Rate
Whether you book activities in Seychelles or pay for your hotel stay or simply enjoy a meal, you will need to settle your bills in either Seychellois rupees or Euros. In some rare cases, dollars will also be accepted. It is good to know the trends for the conversion rates of INR against all of these currencies (as of March 2021).
1 SCR = 3.42 INR
1 USD = 72.45 INR
1 USD = 21.21 SCR
1 GBP = 29.42 SCR
1 GBP = 100.52 INR
1 EUR = 86.27 INR
1 EUR = 25.25 SCR
Is USD accepted in Seychelles?
The United States dollar is not as widely accepted as Euro or the Seychellois rupee. Nevertheless, if you are unable to carry your local currency in Euro, USD is a good alternative. Your banknotes can be easily changed into SCR or EUR at the airport or international banks in Victoria – capital city of Seychelles. Apart from cash, credit cards are readily accepted by most establishments.
Seychelles Visa details for Indians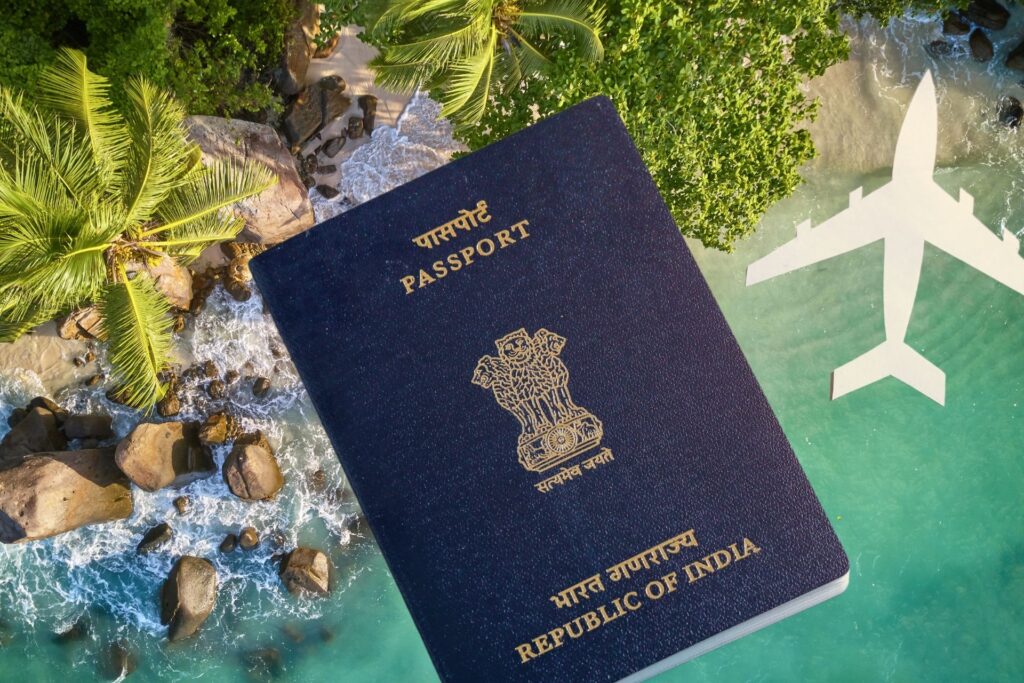 Seychelles is a visa-free destination for the entire world, including India. This means, Indians do not need a visa to enter Seychelles. In fact, the Republic of Seychelles, an East African country does not even issue a tourist visa, so there is no way to apply for it!
However, after reaching the island nation, every foreigner must apply for a visitor's permit. To obtain this, Indians should have a return ticket to India or any onward flight to another country. One should also possess proof of accommodation for the entire duration of the stay. Travel insurance, though important, is not required by the authorities.
Is a Passport required for Indians?
Passport is required for Indians to enter Seychelles. The passport must be valid until at least the date that you return to your originating country. Outside of India, your passport is your most important and the only official document that can identify you in any part of the world.
Seychelles Visa Fee
Since there is no visa or even e-visa, there is no fee for it. Even the visitor's permit is free of cost for all arriving foreigners. There is no way to get any sort of pre-authorization or apply for it online or in advance. The visitor's permit must be obtained only once you reach Seychelles.
This permit allows one to stay in the Seychellois islands for at least 30 days. One can then have it extended for 2 more months (totalling 3 months of stay). Indians should also carry 2 passport-sized photos and at least USD 150 per person per day for each day of the stay in Seychelles (as proof of their ability to afford the holiday).
Seychelles Visa on Arrival
As an Indian, when you arrive at the Seychelles International Airport, you do not receive a visa on arrival. Instead the document is a visitor's permit. This is issued at the discretion of the immigration authorities, and is given once you furnish all the aforementioned proofs of being a tourist, i.e., return tickets or onward journey tickets, confirmation voucher of the resorts in The Seychelles you'll be staying at, and proof of sufficient funds.
Communication in Seychelles
Seychelles is a place where you will want to forget all ties with the rest of the world, and just frolic on the golden beaches of the archipelagic islands. However, you will still need a phone and a way to stay connected with your family back home.
Even during emergencies and instances when you lose your way, it helps to have a phone to make a call or use a map app. Let's not forget, you will need data to update your social media feed as well! While most hotels in Seychelles offer complimentary WiFi, you might want to have some data on your phone for the secluded islands.
There are 2 main telecom operators in Seychelles – Airtel and C&W (Cable and Wireless). It is possible to buy a local SIM from Victoria or Praslin, and also from the Mahé airport itself. You will need to show your passport to register yourself as a user.
International SIM Cards from Indian Airports
For those who do not wish to change their number or SIM (to be able to receive important calls on their existing number), getting international roaming activated on your existing postpaid plan is one option. However, international calls and call reception charges can be steep, not to mention the data charges that cost an arm and a leg.
If you don't mind having a different number in Seychelles, you can get an international SIM card from either the international airport in India that you are departing from, or have it pre-delivered to your home in advance. Matrix, WrapTel, PlanetRoam and a few others offer a mix of prepaid and postpaid global SIM cards that will save you a lot of money when making calls or browsing the internet in Seychelles.
Airtel Call Rates from Seychelles to India
If you buy the Airtel local SIM from Seychelles, you will get a calling credit of SCR 25 along with it. Data packs have to be bought separately. Consider buying one of the International turbo packs if you will be making a lot of calls to India.
Airtel call rates from Seychelles to India can be as low as SCR 1.5 per minute (if you buy their international calling pack for the maximum duration). Many other calling packs offered by Airtel differ in their validity (duration and choice of countries) and option of using data. Some packs can cost over SCR 6 per minute for a call from Seychelles to India.
India to Seychelles Phone Code
Seychelles' phone code is +248. Whenever you make a call to any local Seychelles (SC) number from a SIM registered in a foreign country, you must prefix these 3 digits to successfully make a call. Note that when calling from a local Seychellois number, the phone code is optional.
Availability of Indian Cuisine in Seychelles
Seychelles has its own cuisine that is inspired by French, African, Indian, British and other European and Asian styles of cooking. However, if you want to give Seychellois food a miss and instead stick to Indian fare, there are few restaurants where you can dine.
Indian restaurants are more readily available in Mahé than on other islands. Praslin and La Digue barely have a couple of places where you will find some Indian dishes. Indian staples available in Seychelles are paneer preparations, vegetable curries, dhal (lentils), naan, roti, paratha, rice, seafood such as prawn curry and meats (an assortment of chicken and mutton dishes).
Vegetarians will always have something they can order from most restaurants in Seychelles even if the establishment does not cater specifically to vegetarians. Creole, Italian, Japanese and Chinese food served at most restaurants have plenty of vegetarian options such as saffron rice, Creole curry, pasta, pizza, miso soup, soba noodles, and more.
Seychellois cuisine itself has a handful of vegetarian specialities such as ladob (a plantain-based dessert flavoured with vanilla), chilli cakes (gateau piment – lentil and chilli-based fritters served with dips), tropical fruits, coconut palm, papaya or mango salad, coconut based curries and cassava pudding.
Respect to Seychelles' Culture & Sentiments
One of the smallest countries in the world, Seychelles has a fairly diverse mix of people with shared and distinct ethnicities. Seychelles' history & culture are speckled with interactions of the native Africans with the French, British, Indians, Chinese and other Asians. The nation has a past infused with instances of slavery and imperialism. However, the present demographics reflect an independent, respectful, multicultural and tolerant attitude towards all.
While a majority of the population of Seychelles is Christian (including its various sects such as Roman Catholicism, Anglicanism, Pentecostalism, Seventh-Day Adventism, Protestantism etc.), minority groups include Hindus, Muslims, and a few others. The country has no state religion, and the residents are free to practise their own religions.
What to Do and What Not To
Be mindful of certain things when out and about in Seychelles:
Do not feed anything to the animals and sea birds you find in Seychelles. You may unintentionally end up poisoning them or (over a period of time) cause them to lose their natural scavenging instincts.
Do not collect seashells as those as sometimes used by hermit crabs to rest. Seashell collection is prohibited in the marine parks and nature reserves in the country.
Do not disturb tortoises and turtles or interfere in their nesting grounds. Many of the Seychellois turtles are protected species.
One may not take back Seychelles' native flora with them to their own country, unless one has an official export permit and a certificate which are to be furnished at the airport.
Dress Code
Tourists are largely free to wear what they wish. Trendy beachwear is welcome at the beaches and seafront cafés. However, when you visit a church, remember to cover up and dress soberly. The locals generally wear formals when they go to church.
What to Carry
Seychelles' weather is rather balmy, with a hot sun shining down on you at most times of the day. It is recommended to carry sunscreen lotion and reapply the sunblock cream at regular intervals, especially when outdoors.
If you are planning to go on Seychelles walking tours, remember to wear a sturdy pair of shoes and carry a hat to stay safe from the strong sun. Light cotton clothes are better for this tropical island. Also note that it often rains in Seychelles, so an umbrella will help.
One cannot miss the opportunity of exploring the undersea when in Seychelles. This archipelago has plenty of reefs and dive sites to boast of. If you've booked Seychelles diving tours, it helps to have a waterproof camera like GoPro. For snorkelling, you can either bring your own gear or rent it here.
Remember to keep all your important documents such as passports, insurance vouchers and the bulk of your cash in the hotel safe. Only carry the amount of money that you think you will need each day. It is good to have a copy of your passport and hotel and flight booking vouchers (and not the originals) with you when you are out sightseeing.
Things to Note if Travelling with Kids
Choose Seychelles tour packages from India that are specially designed for tourists travelling with their babies, infants or young children if you have your kids in tow. Some handy information for the parents is enlisted below:
1. A select few Seychelles resorts have dedicated kids' clubs with attendants who will be able to babysit your toddlers and guide young adults through various games and activities while you enjoy your couple-spa or go on a dinner date.
2. Seychelles is mostly a safe destination for travelling with kids as it falls outside the hurricane zone, is free of dangerous diseases, and also does not require certain vaccinations (unlike most other African and South American destinations).
3. Beach visits for children are better early in the morning as that time is mostly crowd-free and the sun is not so hot.
4. Seychelles has a lot of shallow-water beaches which are safe for young children to swim and play around in. In most cases, the depth is too low for adults to properly submerge.
Activities & Things to Do
There are so many activities to do in Seychelles that you will run out of time but not out of experiences! Take a look at some of the popular things to do in this magical holiday destination:
Scuba Diving
Scuba diving in Seychelles is not only for adults. Children as young as 10 years old can sign up for the Junior Open Water Diver Course. There are plenty of things to explore underwater. This part of the Indian Ocean has submerged reefs, overhangs and even caves that one can check out. Diving packages include the cost of gear such as wetsuit and oxygen.
Rock Climbing
Bursting with jungles and hills, Seychelles offers numerous destinations for hikes, trail walking and rock climbing. Head to La Digue to scale giant mountains of granite while wandering through protected national parks. The capital Mahé also boasts of tall peaks suitable of solo and tandem climbs for that adrenalin rush.
Snorkelling
One of the easiest things to enjoy on a vacation to Seychelles, snorkelling can be done even if you are not a swimmer or have little ones to take care of. Possible even in shallow waters, snorkelling allows toddlers to enjoy watching tropical fish, corals and other undersea creatures at leisure.
Walking Tours
There are many types of walking tours in Seychelles that one can choose from. Explore city sights in Victoria, explore the art scene of Mahé, or hop on a food tour that lets you taste everything – from seafood and chilli cakes to locally brewed alcohol and desserts. Some walks also help you understand the history of this East African archipelago while others focus on the architectural and cultural influences of Europe, Asia and Africa.
Island Hopping
Archipelago trips are wasted opportunities if you don't do island hopping at least once. Seychelles has 115 officially recognized islands, and it's possible to explore many of them on a cruise or liveaboard. Make sure you have Mahé, Cocos Island, Praslin, Grande Soeur, La Digue and Curieuse on your itinerary for the diverse experiences they offer. Don't miss watching the coco de mer (sea coconut) trees which are found in no other place in the world except Seychelles.
Canoeing
The crystal clear waters of Seychelles are fun to do a canoe ride on. If you can't get a dug-out canoe, even a fibreglass kayak will serve you well for a few hours of rowing in the sun. Health conscious travellers will get a nice workout when they take up canoeing on their Seychellois holiday.
What to do in Seychelles for Honeymoon
Get the most out of Seychelles honeymoon packages from India when you book a luxurious hotel stay with a private pool or a villa by the beach. Honeymooners can either have a relaxed time, with couple massages, cabana breakfasts by the beach or sunset cruises on their itinerary, or pick active and more immersive things to do such as cycling from one isle to another via the causeway, exploring the local markets or tandem hiking.
Sunbathing on a private beach is another tempting option. Show up in your brightly coloured bathing suit and slump on the loungers with your favourite cocktail in hand. Also, walking up a hill is a sure-fire way to catch a view that will make your honeymoon even more memorable.
What to do in Seychelles with Family
When travelling with family, especially one that includes aged members as well as very young one, one must plan with care to ensure all the age groups are comfortable. Seychelles half day tours are quite convenient as your sightseeing is wrapped up in 4 hours, with enough time to head back to your hotel to rest.
You can also opt for Seychelles island hopping tours that take you to marine reserves and nature parks. Children, in particular, will love interacting with the Aldabra giant tortoise or watching the hatching or release of Hawksbill sea turtles into the sea after their incubation.
What to do in Seychelles on a Budget
Seychelles is regarded as an expensive destination by many – mostly due to its exorbitantly priced luxury hotels and expensive speciality restaurants. However, budget travellers can scout for guest houses in Seychelles that won't burn a hole in their pocket. If you get your own snorkel, mask and fins, you can practically snorkel for free here!
Seychelles on a budget can easily be enjoyed when you explore the sights on foot, eat Creole food from small cafés, shop from local markets, and sunbathe on the warm sands. Local ferries connecting one island to another also make your journey affordable.
What to do in Seychelles for Non Swimmers
If you cannot swim, there is no need to be disheartened. Apart from going on bike rides along the coast, steep hikes in the jungles, and gorging on Seychellois seafood, you can enjoy water sports that can be done even by non-swimmers.
Glass-bottom boat tours are perfect for those afraid of snorkelling while dolphin-watching cruises rival the sightings of sea turtles underwater. Parasailing, jet skiing, banana boat rides and windsurfing are some fun things to do since you'll have a life jacket on. The lack of knowledge of swimming will not be a hindrance.
---
When you plan your holiday from India to Seychelles, experience a magical world that is sun-soaked and lively. Travel with an open-mind, and explore diverse forms of landscape – from beaches and lagoons to lush plantations and tall peaks. Only remember to rub enough sunscreen to keep safe in the strong sun!